THIS PAGE IS STILL UNDER CONSTRUCTION SO PLEASE CHECK BACK LATER.
TEXT COMING SOON
| | | |
| --- | --- | --- |
| | | |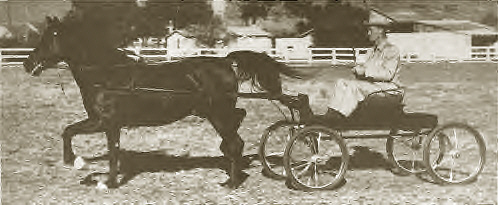 Text here
FASAAB info - (Sire of Maar Ree, more on him in her articles) - DJM
SOME REPEAT INFO so needs editing
From Arabian Horse News no date given but the issue is past August. Page 122
The following tribute to FASAAB. a "Monarch of the West" is from Eleanor and Bill Prince of Buford. Wyoming.
FASAAB 5126 one of the few re­maining sons of *FADL, passed to Greener Pastures on May 14 at the age of 26. His dam was BINT BINT SABBAH.
He was bred by Henry B. Babson of Grand Detour lllinois and was trained by Bob Smith of San Fernando. California. FASAAB was owned for many years by James H. Quinn. M. D. of Salt Lake City. Utah. Also, at one time he was owned by Mr. and Mrs. Leland Mekeel of Whittier, California.
FASAAB was named Champion Arabian Stallion at the Utah State Fair in 1954 and -1955. He won ribbons in performance classes at the Phoenix, Palm Springs, Estes Park and Cow Pal­ace AIl-Arabian Shows. He was shown in combination, park, driving, fine harness and English stake classes.
In 1964 he came to Sodergreen Ranch and Horsemanship School in Laramie and Buford, Wyoming. He was owned and shown by Eleanor Prince in dressage, english pleasure, park and costume classes. He was used extensively at stud. He was ridden in costume many years in the Cheyenne Frontier Days Parade, where his regal bearing and good manners won him friends and admirers.
FASAAB, a black stallion, possessed a brilliance and an elegance that are unforgettable. His head was truly classic- very masculine, yet typy, dry, with large, expressive eyes and small tipped-in ears. He had the substance, presence and size that made him a fab­ulous horse to ride. Although always spirited and animated, he was gentle, responsive and willing. FASAAB was beautiful even in old age; his topline and front legs stayed as sound as a 5 year­ old's. He was alert until the day he died of a heart attack.
FASAAB was a prepotent sire and was able to pass on his excellent qualities and disposition to his foals. He has many get in the Rocky Mountain - region and some of his youngsters on their way up will do him proud.
FASAAB was a magnificent stallion, one whom we were proud to own and call friend.
There will never be another to fill his place.

From Sodergreen – Riding through the Good Life with Al Khamsa Arabians by Eleanor Prince Khamsat vol. 1 #2 page 14

We expanded in the 60's by obtaining the fabulous Al Khamsa stallion Fasaab 5126 (*Fadl x Bint Bint Sabbah). He not only produced excellent foals, but was shown in Dressage, Park, W.P., E.P., Halter and his favorite class-Costume! One incident that showed his 'unflappable' nature happened at the Estes Park Show. We were in the Costume Class and mov­ing at a hand gallop (Fasaab loved this gait), when the saddle began to turn and it turned all the way under his barrel, with draperies flowing between his legs and stirrups flying! I hitched myself gradually up to stay on the top and Fasaab never lost momentum or his 'cool' and we won a 2nd place!
Fasaab #5126

Black stallion 04/25/1948

*Fadl #896
Grey 06/17/1930
Ibn Rabdan RAS #86
Chestnut 05/171917
Rabdan RAS# 49 Grey
Bint Gamila RAS# 60 Grey
Mahroussa Egypt #115 Grey 1920
Mabrouk Egypt #73
Negma RAS #45 Grey
*Bint Bint Sabbah #894
Bay 05/19/1930
Bayiad RAS
Grey
Mabrouk Manial RAS# 67 Grey
Bint Gamila RAS# 60 Grey
Bint Sabbah
Bay
Kazmeen RAS# 13 Bay
Sabah RAS# 103 chestnut
!
From A Tribute to Maar Ree (by Larry Riley) The Arabian Horse Times may 1987 page 58
FASAAB
FaSaab was foaled in 1948 and according to Homer Watson, of the Babson Farm where FaSaab was born, he was a good colt, though 'very gangly .• The Me Keels had purchased FaSaab's full sister, Fadahma, from General Dickinson's Travelers Rest Farm. Because she became one of the ranch favorites, the Mekeels sought out her full brother at the Babson Farm. (Note: in recent letters from Margaret Dickinson Fleming, it was related that Fadahma's grandson, Nickajack, is still active and breeding, at 29, at Travelers Rest.)
FaSaab was purchased by the Mekeels sight unseen, and because he was so gangly, Homer made Leland promise not to give him away or geld him but wait him out. When FaSaab was 2, Leland called Homer and reminded him of the promise he had made Leland give two years earlier. Leland told Homer that, if it were not for that promise, he would have put him right back on the van and sent him down the road. But FaSaab developed into quite a halter horse and was a consistent winner as a 2- and 3-year-old. His winning did not go unnoticed and Dr. James H. Quinn of Salt Lake City, Utah, through much persistence finally persuaded the Mekeels to part with their rising young star. FaSaab was put in training with Bob Smith of San Fernando, Calif., and become a champion in halter, a reserve champion in English pleasure and did very well in combination, park, driving and fine harness. He was retired from the show ring and become Dr. Quinn's personal mount until Dr. Quinn's death.
Mrs. Quinn subsequently placed FaSaab with a broker to find him a good home. In 1964, at the age of 16, he was acquired along with his old native costume by Ellie Prince of Sodergreen in Buford, Wyo. FaSaab had been away from work and the spotlight for many years, but Ellie slowly and methodically brought the stallion back into competitive fitness. After one year of conditioning, she showed him in Salt Lake, Ogden, Estes Park and some in Wyoming. He swept the English classes and was again a champion stallion in Nebraska, all between the ages of 16 and 20. He always placed among the first three and was several times reserve champion and champion in park and English pleasure. He was started in dressage and also did a credible job in that.
Ellie shared one experience with me in a recent letter.
"One year at Estes Park in the 1960's, the cavalry saddle (under costume trappings) turned all the way around under his belly at the hand gallop. Most of his costume was between his legs, but he never lost stride or cadence even when I had to maneuver to keep on top of his back. He received second place in a large class - probably because he was so obedient and everyone was surprised we were still together.
Ellie and her good friend Dorothy Feldman purchased the Al Khamsa mare Shar Anna, by Negem, especially to breed to FaSaab but, unfortunately, he died of his third heart attack before they could breed her. Dr. Quinn's old friend Dr. Keith Krausnick sent two straight Egyptian mares to Betty Rider's Tahlequah Ranch to be bred to FaSaab and both were thought to be in foal but came up empty. (The mares were Shar Gema (Negem x Sir Habba) and Shar Sabbah (Negem x Gamoussa.) Betty Rider did breed her own Negem daughter to FaSaab which resulted in the beautiful daughter Atalie (FaSaab x Negemah). Joan Milne of Casper, Wyo. bred several Egyptian-bred mares to him also with much success.
Lt. Col. Rider summed up FaSaab by simply calling him "that magnificent black monarch in the mountains:
In Ellie's own words: "He was a horse of much energy and always wanted to please ... he was one of the most pleasurable horses to ride and just be with that I've ever owned."