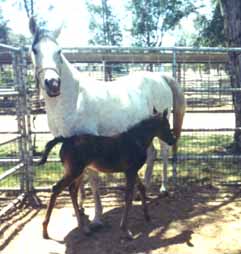 "Serra" is a 2002 straight Babson mare bred and owned by Frank and Julie Maruyama of California. She is a well behaved, nicely balanced and pretty athlete. Her pedigree appears at the bottom of this page.
Her dam is AK Serramah, bred by Bentwood Farm of Waco Texas. She was a Mah Hab daughter from a Faserouf daughter. AK Serramah had her last foal, a 2006 filly Serra Bint Lothar for Gayle Rowe in Canada.
Serra's sire is Ibn Sabbah Bedu+/, one of our champion dressage horses.