"Some horses come into our lives and make hoof prints on our hearts and we are never, never the same" - Anonymous
Serabaar is a representive of the "without *Maaroufa" group of Straight Babsons. They are a small group of Babsons that do not trace to the prolific Babson imported mare *Maaroufa.
Serabaar is a deep black/bay color that most people think is black. He has a wonderful presence, enjoys being shown off but could be handled with a silken thread while doing it. He is always the perfect gentleman. At 30 years young (2000) he still loves to show off that breath-taking extended trot!
When moved to a new pasture he quietly waits until his halter is removed and I have started back to the gate. He then explodes into energy as if remembering and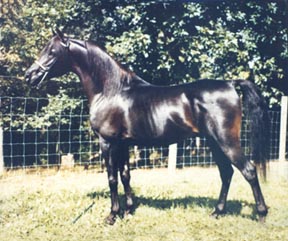 reliving his show performances of long ago. "And the crowd goes wild…" (and I am completely captivated every time!)
Serabaar sired 32 foals from 1973 to 1986, many of them Al Khamsa. His grandget number over a hundred. His only replacement within the Straight Babson Egyptian group is Ibn Sabbah Bedu+/ (X Shar Sabbah), our dressage and jumping show stallion.
The May 2000 issue of Arabian Horse World magazine (Page 309) lists Serabaar as a "Leading Sire of Performance Horses." He is listed as #27 ahead of such notable famous stallions such as *Muscat, AAF Kaset, Cognac, *El Moraduke, Monogramm, Aladdinn Echo, and Kharben. This data was collected at the 2000 Scottsdale Show where Serabaar was represented by only one offspring, Ibn Sabbah Bedu+/.