Bint Al Bahr Arabians
Preservation Breeders of Straight Babson Egyptians

RABDANS SERRANIZA
Straight Babson Egyptian mare
Ibn Sabbah Bedu danced into the Prix Caprilli class on April 6, 1997, nostrils flared in anticipation of flying over jumps, as a new set of tiny nostrils flared for the very first time.
Ceniza had spent a restless morning asking to go from pasture back to the foaling stall. I had told her she had to wait until Bruce got back from the horse show, then we could all have this baby together. A little past noon she lay down in pasture near the gate and told me her time was NOW, no more waiting. She got up as I opened the gate and nearly put the halter on by herself. She waddled (she was as nearly wide as she was long) to the welcoming straw mattress and lay down again.

Fluids, amnion bubble then feet and nose appeared. All stopped there for what seemed like forever. She pushed and I gently pulled on the slippery feet, first one then the other. Finally the foal cleared the pelvis and slid out easily to lay by Ceniza's hocks.

Ceniza nickered in that deep wickery voice mares save for that first greeting. The foal raised its head answering back. The new life was impatient to get started, attempting to crawl towards the welcoming sounds.
A NEW FILLY! I "leaped" with joy just as Sabbah was doing in Scottsdale!
Bruce called from the show grounds in response to my "beep" and we shared as to how we had each spent the previous few minutes. Ibn Sabbah Bedu had won the Prix Caprilli! Ceniza had a beautiful filly! An exciting time for both of us.
This new filly, Rabdans Serraniza, was sired by Midbar Fa Rabdan (bn Fa

Serr x Aroufina) the 24 year old stallion that we had lost the previous month. We are very grateful for this filly to carry on his influence in our herd.
She is bay with a star and a short hind sock. She was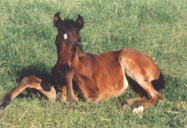 a most welcome little beauty. She joined her two big "brothers" that summer as they grew and played in the pasture. They all looked a lot alike in color, all bay, all had small stars, only the white on the fast little feet set them apart. I had to get a new magnifying glass to differentiate them in their baby photos!
Perhaps it was partly due to a little "hybrid vigor" that this filly weighed in at a hefty 105 pounds!!! Bruce climbed on the scale several times with her as we did not believe our eyes. She was 38.5 inches tall with a 32 inch girth. Serraniza has since grown up to be a tall and leggy mare.
Rabdans

Serraniza


# 545821
Bay 04/06/1997

Midbar Fa Rabdan
#102099
Bay 03/30/1973
Ibn Fa-Serr #17189
Grey 04/12/1960
Fa-Serr #4482
Black 07/10/1947
*Fadl #896 Grey 06/17/1930
*Bint Serra I #897 Bay 03/03/1923
Fa Deene #1431
Gray 08/07/1937
*Fadl #896 Grey 06/17/1930
*Bint Serra I #897 Bay 03/03/1923
Aroufina #57040
Bay 07/15/1969
Fabah
Gray 08/07/1937
*Fadl #896 Grey 06/17/1930
*Bint Bint Sabbah #894 Bay 05/19/1930
Roufina #31958
Black 04/07/1965
Fa-Serr #4484 Black 07/10/1947
Aaroufa #7892 Grey 05/16/1952
Almoraima Ceniza
#438227
Bay Grey 06/10/1989
Ibn Saafaddan #133116
Grey 04/09/1976
Saafaddan #13488
Bay 06/07/1958
Faddan #1172 Bay 06/04/1935
Saaba #8835 Bay 05/28/1953
Daal Aba #47028
Grey 03/05/1968
Daaldan #3144 Chestnut 06/01/1945
Fay El Aba #8833 Grey 05/31/1953
Ru Robin Sabbah #198973
Bay 08/06/1979
Ru Fadl Shadow #65395
Black 04/17/1970
Daaldan #3144 Chestnut 06/01/1945
Bint Gammousa #26189 Bay 09/30/1963
Ru Sabbah #76727
Bay 04/12/1971
Fa-Serrab #25303 Bay 06/20/1963
Bint Gammousa #26189 Bay 09/30/1963

[ Rabdans Serraniza ] [ Serra Khedena ] [ Serra Sereneh ]
[ Babson Family ] [ Babson Mares ] [ Babson Stallions ] [ Latest News ] [ Farm Stories ] [ Readers Corner ] [ Great Cats ] [ Favorite Links ] [ Home ] [ Bint Al Bahr Arabians ]