We call him "One Eyed Jack." He is a scruffy black feral tom cat with one good eye and a white belly. Jack has been coming to dinner and breakfast for at least 6 months but will not come too close and never stops watching us. Jack doesn't quite trust us, he has been watching his sparring partners disappear one by one and return neutered. Jack has no desire to join their peaceful ranks.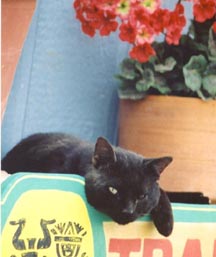 One June evening I glanced outside just after dark and saw Jack looking in the patio door. He was watching the family he used to help hunt gophers for. We had captured them a few weeks before and they now happily played with Catnip mice on the carpet enjoying the security and protection of their new home. Jack just sat and watched. His now indoor bride "Jabber" went over and sat by him. One of her kittens walked to the door and touched its paw to the glass. Jack rubbed his head against the glass. I felt a little sad and lonely for Jack as I turned away.
The next morning I headed out to put on the "Foster Grants" (flymasks) on the pasture horses. I saw a black cat lying in the grass with two small kittens in the shade of one of our trees. I turned back to the house mumbling about "another poor mom cat with kittens she needs help feeding". I dished up a generous serving of WCT (better known as "Wet Cat Tuna" or canned cat food) I set it down not far from the trio that watched me very closely. Backing away I noticed one of the eyes on the black mom didn't look quite right but surely this wasn't Jack. It had to be the mother of the kittens, they were so comfortable with her. Could there be two black one-eyed cats? Must be. When I returned from the pastures some time later the dish was empty. The kittens were back under the tree playing with the mom cat's tail.
Later that morning I thought about them again and looked out the window to see a small black kitten moving through the grass. I went out to check on it and found it all alone. Its sibling and mom were nowhere to be seen. I reached down and picked it up. It was only a few weeks old. I took it in the house and put it in the box of younger kittens with a mom we had netted about 4 weeks earlier. "Shadow" let the very hungry kitten nurse and started to bathe it.
I kept checking for the other kitten but didn't see it all day. As I was finishing the evening feeding I heard mewing cries. I followed the sound to the back of the rapidly darkening hay barn. Peering into the darkness I watched for movement, hoping that any movement I saw would turn out to be the kitten. As anyone who ventures in can imagine, all the spiders in a hay barn become simply enormous after dark. After a several unsuccessful attempts to capture it, the kitten finally wedged itself in an old wooden Pepsi crate. I was able to carry crate complete with kitten to an empty horse stall, close up the stall and get the ungrateful kitten out. It too was happily accepted by "Shadow" to raise. They became two less kittens to grow up wild and add to the feral cat population.
The next morning the "mom cat" was waiting by the empty food dish in the pasture. She retreated as I came near and filled the dish. On my return from the pastures she was sitting next to the dish. A white belly was displayed. IT WAS JACK! Jack had brought us the kittens to raise!

Jack is now neutered. Please keep us in mind if you would like a special kitten. We have rescued kittens and cats like these below that are available for adoption, some are bottle raised.