Bint Al Bahr Arabians

Preservation Breeders of Straight Babson Egyptians

AFMAAR
1946 - 1973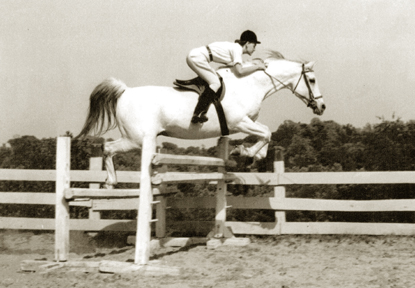 Afmaar (Fay-El-Dine x *Maaroufa) foaled in 1946 sired two SBE foals, a 1954 colt and a 1955 filly. His filly Bulghra (x Fazala) bred on in the programs of Richard Lodwick and Gerald Donahue, producing lines that are still in today's purebred population.
Afmaar might best be described as one of the ultimate ambassadors for the Arabian horse for his time. He left the Babson Farm with Bazy Tankersley of Al- Marah Arabians to become a gelding and a cutting horse, a sport for which he had only a spectator interest. His delightful patient disposition earned him the important job of teaching all the children on the farm to ride. He was taught to jump and became Bazy's and her daughter Kristie's hunter/ jumper. Bazy tells of Afmaar's natural ability to chose the safest way over an obstacle was so pronounced that after his 3rd fox hunt, many of the field would follow his lead across the countryside. He ran in point to point races, competed in Hunter Trials and was shown by children in English and Western Pleasure winning as many ribbons as any horse they had. He was much loved and made many friends.
At 14 he began a new career, he enthusiastically carried the Al Marah silks onto the race track and was always a strong contender.

In between races, Kristie would take the sensible quiet Afmaar out on long hacks across the countryside.

Kristie, still a junior rider, decided to set her sights on Madison Square Garden so the silks were left behind and serious dressage work began.
| | | |
| --- | --- | --- |
| Just as a sample of his busy schedule, only three days after a 1958 four mile, 14 fence Point-to-Point event he entered and won the 100 mile West Virginia Trail Ride. Not long after he was seen giving a thrilling Hunter and Jumper exhibition at the Nationals at Estes Park. In between, Afmaar became the personal mount for the Lone Ranger when ever he made a personal appearance in the nation's capitol on behalf the US Bond drive. | | |
| | | |
It was often said that Al Marah must have two Arabians by the name of Afmaar as one horse just couldn't possibly get around that much.

Bazy Tankersley on Afmaar's busy schedule - "Tell me, do roller skates look good on Arabs?"
Al-Marah still has some bloodlines from the Babson farm in the Al-Marah herd.
Afmaar
#3883 Grey
F. May 8, 1946
Fay-El-Dine #1170 Grey 05/01/1934
*Fadl #896
Grey 06/17/1930
bn Rabdan RAS #86 Chestnut 1917
Mahroussa Egypt #115 Grey 1920
*Bint Serra I #897
Bay 03/03/1923
Sotamm Bay
Serra Bay
*Maaroufa #895 Grey 09/07/1930
Ibn Rabdan RAS #86
Chestnut 05/17/1917
Rabdan RAS# 49 Grey
Bint Gamila RAS# 60 Grey
Mahroussa Egypt #115 Grey 1920
Mabrouk Egypt #73
Negma RAS #45 Grey

Send mail to BabsonArabians with questions and comments about this website.
Copyright 2008 Bint Al Bahr Arabians