Excerpts from The Arabian Horse News - June/July 1963 page 26
From Helen and Earl Foster, Hillendale Ranch, Rolling Hills California came the following account of the death of their stallion KHEBIR #2378: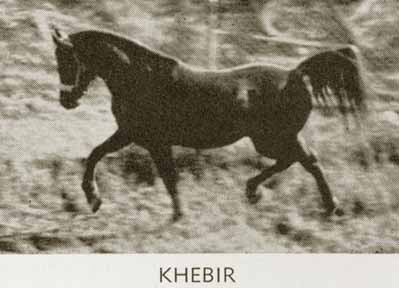 "Tragedy struck our Hillendale Ranch the evening of May 3, when our beloved KHEBIR died very suddenly from a heart attack. Though he lacked but a few days of being 21 years old, he looked and acted nearer half that age and appeared in his usual buoyant, vigorous health to the last.
This beautiful liver chestnut stallion whose sire *FADL and dam *BINT BINT SABBAH were both imported from Egypt by Henry Babson, was bred on the Babson Farm in Illinois, coming to the West Coast a few years later, he has been a most important member of our family for nearly ten years.
To us, who loved and respected him so much, KHEBIR was more than a great stallion he was friend, companion, pal, a real 'Ham' and a true gentleman at all times. He was always a little more joy and a little less trouble than any of our other Arabians. Even in death, he made it as easy for us as such a tragedy and loss could possibly be.
We miss him dreadfully and no other horse can ever quite replace him, but still he lives on in our hearts and in the truly good and beautiful offspring he is leaving to carry on for him."
Another page on Khebir coming soon with more photos and information!
Khebir is a full brother to stallions Fad Sabbah (1946), Fasaab (1948), and Fabah (1950). His full sisters are Fa Dahma (1936), Fa Saana (1937), Habba (1945), Fa-Habba (1947), Faaba (1949) and Fa-Abba (1951).

.